Obedience
When I tell people that I compete in obedience with my Kerry Blue Terrier, Jessie, they often come to the conclusion that we must be very bad at it. Jessie is not exactly an obedient dog in that he loves to jump up on people, bark, tug on the leash, and jump on the furniture. But none of that really has much to do with the world of competitive obedience. To be honest, jumping up is encouraged and once I put on his training collar he stops tugging. The barking is the only bad habit I am working on eliminating! But he is a terrier, and if you know anything about terriers you'll know they love to talk . . . .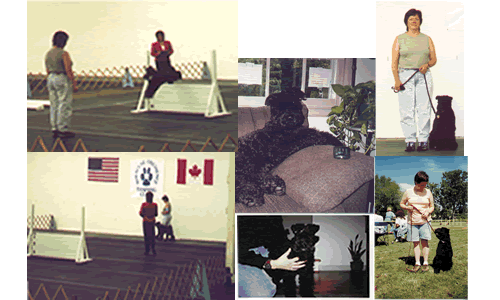 Obedience was originally developed to show the world that pure bred dogs could also be smart, obedient companions. Thus the first title you must achieve in obedience is the title "Companion Dog" and means your dog can perform all the exercises a good companion dog should know such as heeling on and off lead, standing still for a physical exam (such as a vet), a good, fast recall (coming when called), and staying in a sit and a down even when left there for a long period of time without being reminded. That is how it all started, but it has turned into something much more. Obedience as it is done now is a very precise series of exercises where the dog is judged on consistency of style, attitude, and speed. While you can still put a CD(Companion Dog title) on a dog without a stellar performance, the top competitors strive for that little extra that wins ribbons.
Unlike Conformation, Obedience is not always a competitive sport. Each dog performs alone in the ring with their handler and is scored against a perfect 200 not against another dog. To show that the titles won in obedience are not competitive they are placed after the dog's name. My dog is now named Primrose Jessie James CDX. When we get our next title (Utility Dog), his name will be changed to Primrose Jessie James UD. If I showed him in Conformation and earned his title as Champion, his name would be CH Primrose Jessie James CDX (the competitive titles appearing before his name). The only title in obedience that is earned by beating other dogs is the Obedience Trail Champion title (OTCH) which is won by placing in the first four ribbons at the Utility level.
The title you can put on a dog in obedience are CD (Companion Dog), CDX (Companion Dog Excellent), UD (Utility Dog), UDX (Utility Dog Excellent) and OTCH (Obedience Trail Champion). You must finish the degrees in order listed before trying for the next title. For a CD you must score more then 170 in three trials under three different judges, for CDX you must do the same at the Open level, and the UD the same at the Utility level. For a UDX you must score more then a 170 in BOTH Open and Utility at the same trial 10 times! A UDX can cost thousands and take years to earn even for a very talented dog! For an OTCH your dog must earn 100 points won by beating other dogs in Utility and Open -- the point schedule can be found on the AKC website or the website of the club (if it is not the AKC) that is running the show.